LATROBE, Pa. – Saint Vincent hosted the very first inaugural Presidents' Athletic Conference (PAC) Student Athlete Mental Health and Wellbeing Summit at the Fred Rogers Institute this past weekend.
This event requested at least one female and male student athlete presence from each PAC school to represent their institution. Each student attendee provided the conference with their personal story behind being a collegiate student athlete and balancing their academics with the state of their mental health. Coaches, trainers, and administrators from all around the conference also played an evident role in being present at the summit to learn from the student athletes present.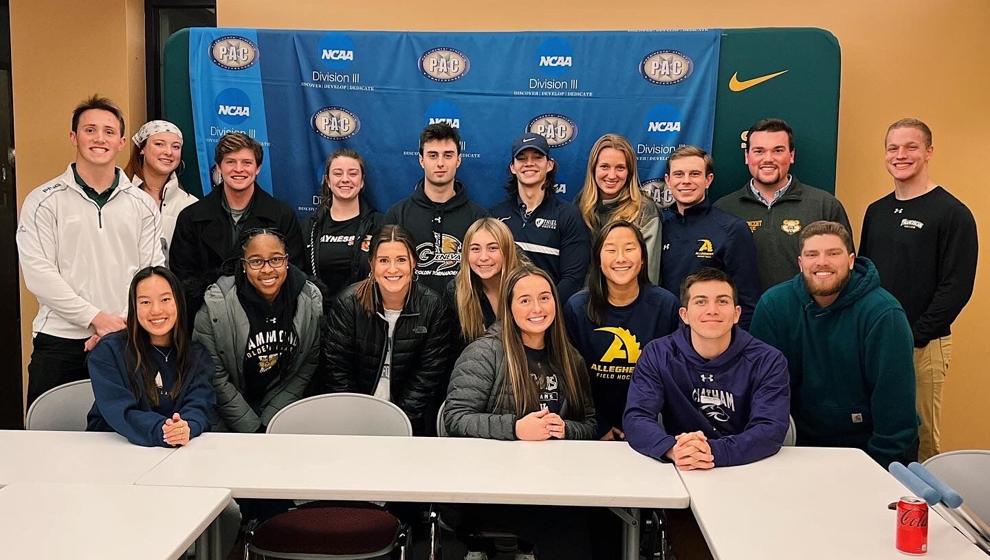 Representing Westminster on the staff side was Assistant Athletic Director and Head Women's Volleyball Coach Tammy Swearingen, Head Men's and Women's Soccer Coach Girish Thakar, and Associate Athletic Trainer Misty Motter. Westminster's student-athlete representatives included me, Sabrina Slagle (Women's Tennis), and junior Morgan Byers (Women's Golf).
As the current President of the Student Athlete Advisory Committee (SAAC) at Westminster, I was thrilled when I volunteered to represent our college at this conference. Byers and I have been working closely with Kristin Consuegra since joining the Presidents' Athletic Conference SAAC leadership team last semester. Byers is serving as the Service Coordinator, and I am serving as the Social Media Coordinator during the 2022-23 academic year. We both had the pleasure of attending the conference together, and it's safe to say we learned a lot from just two short days' worth of mental health panels and conversations.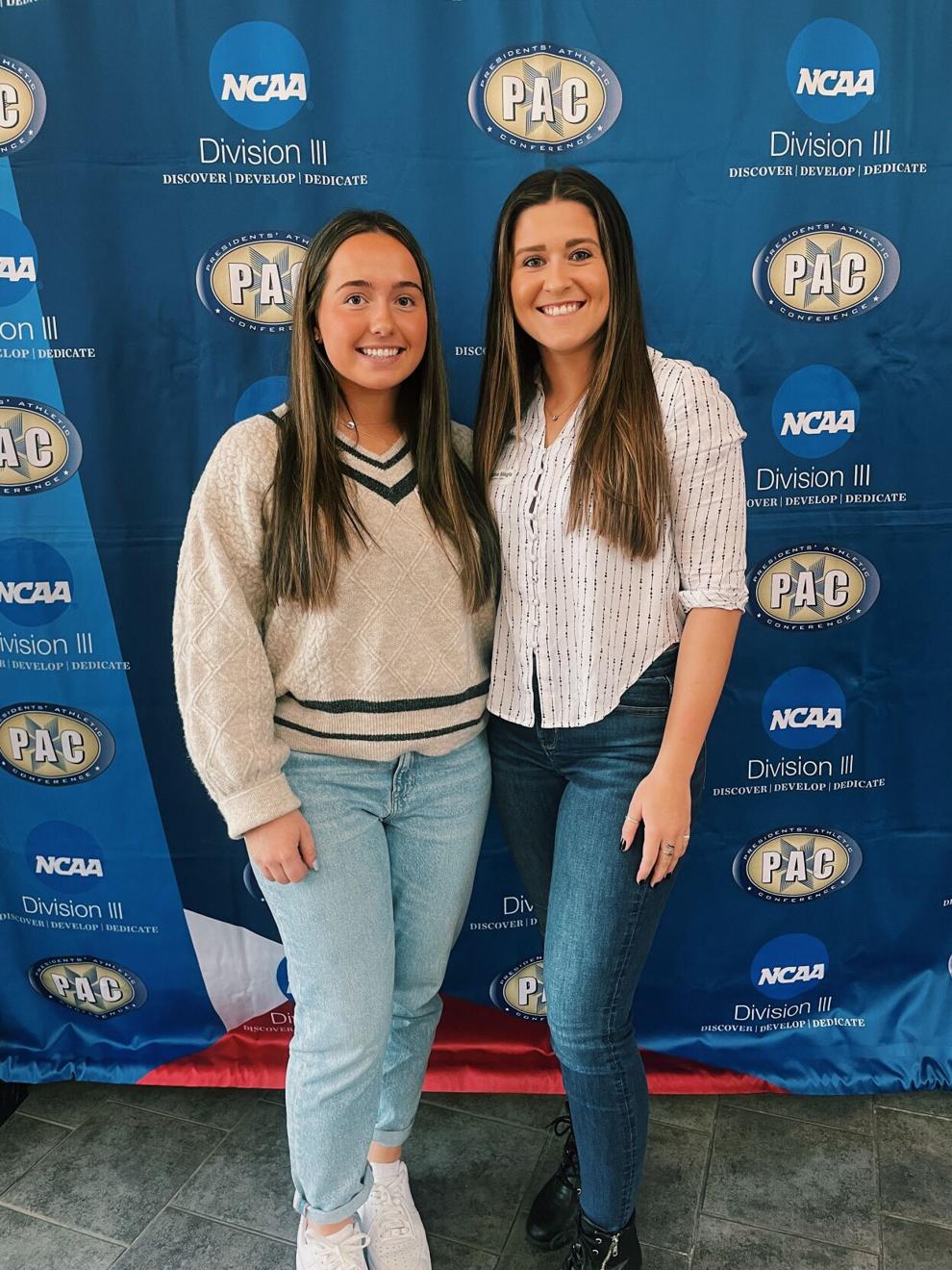 In my own opinion, it was an incredible opportunity to sit alongside 25+ student athletes on a stage and talk about our experiences with balancing our mental health as a student athlete. I normally would not feel comfortable in such a public setting sharing personal things about myself, but once the panel conversation started flowing, I realized I was not alone. I got to learn from other student athletes' experiences, and it made me realize that we all struggle with something in our lives, even if it means our struggles are in different areas. This was my favorite outtake of the conference: learning that I am never alone in whatever I may be going through. None of us are.
Not only did I take comfort in the fact that mental health is a struggle across the whole conference, but I was more so grateful to have felt that the audience hearing our stories learned from each one of them. I felt that each coach, trainer, mental health professional, administrator etc., walked away from that experience wanting to make a change on their campus. It made me astonishingly happy knowing that every individual brought those outtakes back to their institutions to advocate more adequately for the mental health of collegiate student athletes.
After speaking with my peers that also attended the conference, it seemed that my experience was pretty similar to theirs as well. Morgan Byers touched on her experience as a fellow student athlete that attended the summit.
"I would say it was incredibly beneficial hearing other students share their first-hand experiences with the anxiety and other outside stressors that come with being a student athlete," she said. "It was great bouncing ideas off of other students on how to best support and structure your team, and how to create a culture that fosters a successful and positive environment."
Byers also touched on the personal connections she made after attending.
"Overall, it was a great experience bonding with other athletes that, if it weren't for the summit, I likely would have never met, let alone gotten so close with," she said. "The conference was able to spotlight how a person struggles in their day-to-day life, not just as a competitor in their sport. It was a great experience, and I can't wait for more Westminster students to hopefully experience it next year!"
On the staff side of the summit outtakes, Women's Volleyball Coach Tammy Swearingen claimed that it was extremely beneficial for her as a coach and administrator.
"It was important for me to hear individual concerns from our student athletes regarding their mental health," Swearingen said. "The student athletes shared concerns ranging from academic pressure and expectations, time management, family pressure and dynamics to self-imposed pressure to excel and grow within their individual sports."
Swearingen also touched on the balance between academics and being a Division III athlete.
"Many noted that they selected Division III because they wanted to excel in both academics and athletics," she said. "Each area is a priority along with family and friends. Our athletes want to be perfect in all aspects, and that just isn't possible. We need to strive for excellence."
Men's and Women's Soccer Coach Girish Thakar stated that he also had a pleasurable experience and learned a lot from the summit.
"I really enjoyed the interaction between the students, coaches and administrators," he said. "I feel the information we gathered at the summit is going to really help me with the everyday communication with my student athletes."
Athletic Trainer Misty Motter also believed that the spotlight on the mental health of a student athlete was something long overdue.
"Listening to the voices of student athletes from Westminster and other conference schools was powerful on the impact of mental health," Motter said. "The Mental Health Summit brought unity between competitors to combat such a highly publicized topic."
I could not have said it better myself. The focus of putting competition aside to talk about something deeper, especially after the negative effects Covid-19 had on college students all around the world, is something that should've been done years ago.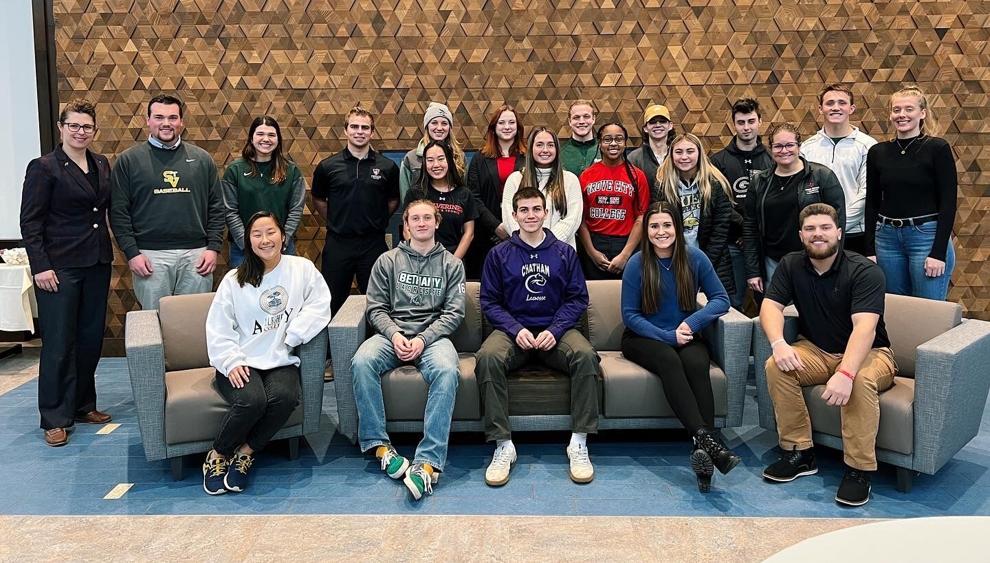 With the help of Dr. Dana Winters and Dr. Becky Zill, the mental health specialists that facilitated the summit, along with PAC Commissioner Joe Onderko and the Assistant Commissioner for Governance and Championships Kristin Consuegra, student athletes all around the state were able to share their stories and learn from others'. It's safe to say that this was an extremely successful summit that I can only hope becomes an annual event down the road. I certainly cannot wait to see the changes made in each individual institution in the years to come, and I'm most grateful to have been a part of that change.