Wearing an Australian flag as a cape, Lorraine of Ferntree Gully, who also did not want her surname included, was similarly disappointed, describing the government's alternative event at Fedearation Square as "pathetic".
"For years and years, I've been coming to the Australia Day parade. They had all sorts of cultures represented. It was a nice feeling," she said.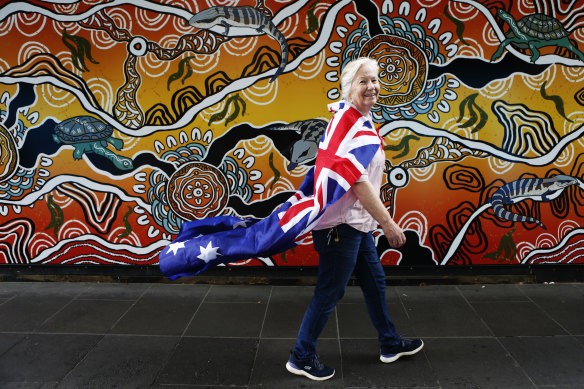 The mixed feelings of how to mark the day was reflected across the city's 31 councils, which, until recently, all held citizenship ceremonies on Australia Day.
Some councils, including Darebin City Council and City of Yarra, did not mark the day at all, with Darebin issuing a statement outlining its opposition to Australia Day and lowering its Aboriginal and Torres-Strait Islander flags to half-mast.
Stonnington and Moonee Valley hosted healing ceremonies to pay respect to First Nations people, while a mourning reflection service at dawn was held in Port Phillip.
But other councils, such as Greater Dandenong, held their regular celebrations, including an Australia Day awards ceremony, which featured a band and a fun run.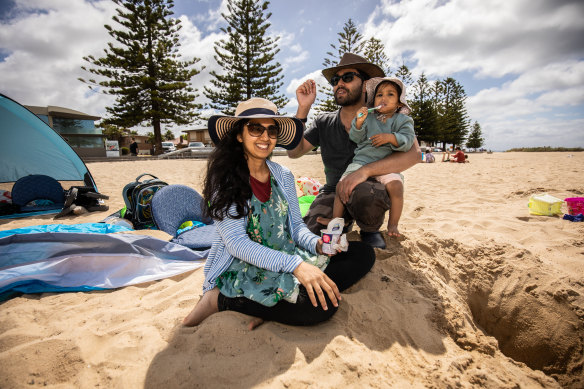 It briefly turned ugly in Merri-bek, which held a citizenship ceremony on Tuesday instead of Australia Day, when neo-nazis attempted to disrupt the council's Aboriginal mourning ceremony at Coburg Town Hall.
A group of about 20 black-clad, masked individuals gatecrashed the event and appeared at other spots in Melbourne's inner-north throughout the day, performing nazi salutes and holding banners displaying racist slogans.
Police said they would investigate "whether an offence occurred" in Coburg. The state government signalled it could beef up anti-vilification laws if police determined the behaviour wasn't technically a crime.
"The government will continue to monitor the use of hate symbols and vilification and may consider further legislative reforms at a later stage," a spokesman said.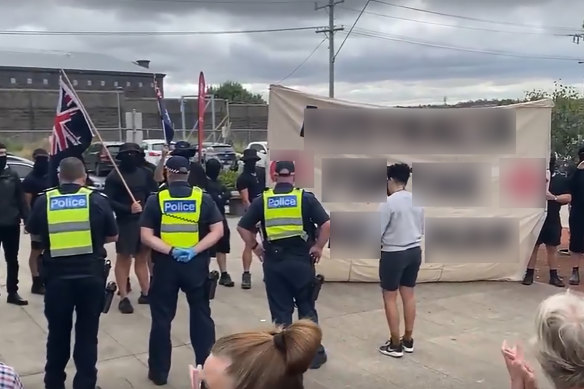 But Shadow Attorney General Michael O'Brien said it would be "hard to believe that existing laws can't deal with this conduct".
"Victoria's equal opportunity, anti-vilification and public order laws should be able to deal with these attempted provocations from a sad little rabble," he said.
Loading
Meanwhile, at Melbourne's Town Hall, Lord Mayor Sally Capp said this year's event may have been the last Australia Day in which the council hosts citizenship ceremonies, following a repealed a Coalition rule that forced councils to hold the ceremonies on Australia Day.
"I think change is coming," she said. "I'm not sure how quickly that is coming, whether that's in the next 12 months, but definitely change is coming, so we will respect and move with those changes."
Capp welcomed 200 new Australian citizens from 50 countries in the council's largest-ever citizenship ceremony at Melbourne Town Hall, including Vikas Gadoo, who moved to Australia from India 10 years ago.
Attending the ceremony with his one-year-old daughter, he said it was an honour and a privilege to become an Australian citizen.
"I'm proud of being Australian today," he said. "I'm feeling very emotional and very proud."
Gadoo said that while January 26 was a controversial date in Australia, in India, the date marked the country's Republic Day.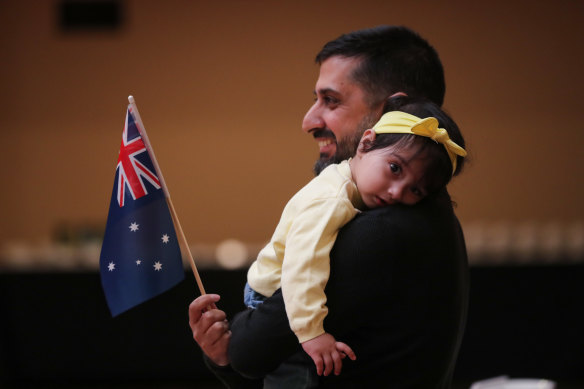 "It comes down to personal views that people have but for me, this is already a very special day," he said. "It's good to have Australia Day on January 26."
There were similar sentiments at Altona Beach, where Ayesha Sunnooman, 38, a GP from Deer Park, was having a lovely day at the beach in Melbourne on Thursday with husband Mohammad, 41, and their children Zaynab, 1, and Zakiya, 3.
Sunning on the beach, Sunnooman said she didn't think Australia Day should be scrapped. Originally from Mauritius, she said Australia offered more opportunities for work and life.
"I think it's good to be patriotic and remember your country. It reminds us we are all one country. We are diverse people but we are all Australians."
With Caroline Schelle
The Morning Edition newsletter is our guide to the day's most important and interesting stories, analysis and insights. Sign up here.