It was a ping on a mobile phone tower that led police to suspect Gregory Stuart Lynn of committing a double murder in Victoria's High Country.
Key points:
Police have outlined some of their case against Greg Lynn in a summary provided to a committal hearing
Police secretly tapped Mr Lynn's calls and tracked his location for close to a year before he was charged
The documents confirm Russell Hill and Carol Clay went camping together regularly as part of a secret relationship
According to police documents submitted to the Melbourne Magistrates' Court, a security camera snapped four pictures of Mr Lynn's Nissan Patrol towing a trailer on Great Alpine Road at 9:48am on March 21, 2020.
A phone belonging to another man, Russell Hill, had connected to a nearby phone tower at Hotham Heights 10 seconds earlier.
While his phone was switched on, police allege Mr Hill was dead.
The documents reveal investigators believe his body was inside Mr Lynn's trailer, along with the remains of another alleged victim, Carol Clay.
About an hour later, a camper discovered Mr Hill and Ms Clay's campsite, which had been badly damaged by fire.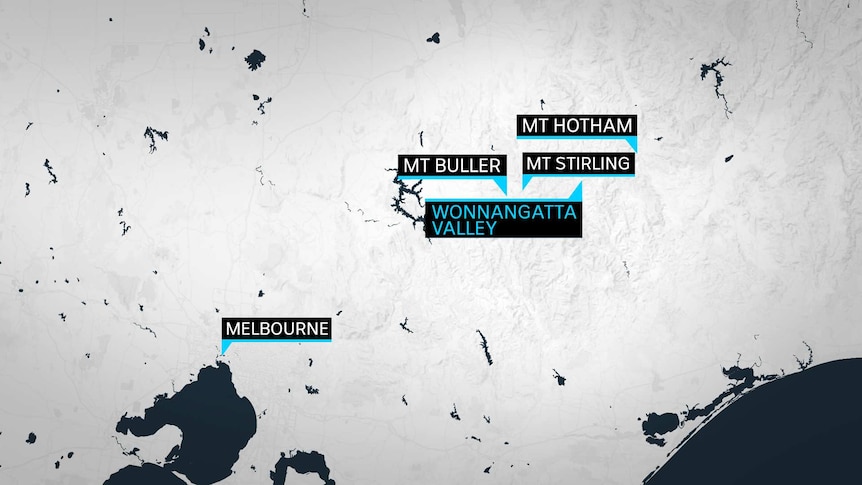 Exactly what happened at the campsite in the 16 hours prior to those phone and camera detections remains the subject of a high-profile legal case that has made headlines in Victoria and around the country.
Mr Lynn, 55, has been charged with murder but maintains his innocence and has indicated he will plead not guilty.
He is currently facing a committal hearing, with magistrate Brett Sonnet yet to rule whether there is sufficient evidence for a criminal trial.
During the two days of hearings so far, Mr Lynn has sat quietly in the dock, listening closely to the evidence and taking notes.
Police documents allege campers were killed 'with murderous intent'
On Tuesday afternoon, some details of the police investigation were revealed for the first time as part of the committal hearing.
"The accused killed Hill and Clay and did so with murderous intent," a written police summary alleges.
"The accused made immediate and overt efforts to contaminate the crime scene and conceal the offences."
Another statement by forensic expert Mark Gellatly also shed light on a police theory that a deadly campsite struggle occurred on the evening of March 20.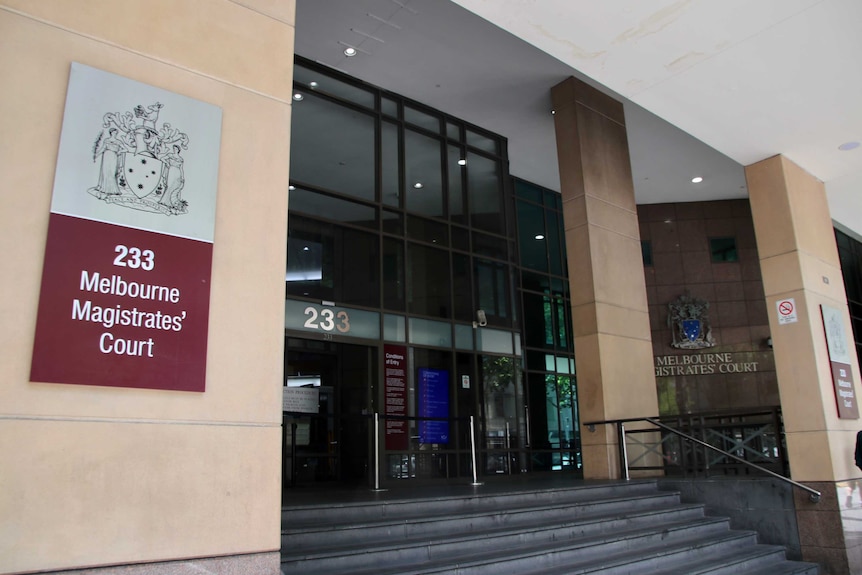 In his statement, Mr Gellatly said he had received information from Victoria Police's major crime scene unit that Mr Lynn confronted Mr Hill and Ms Clay, after becoming "annoyed" about a drone they were flying in the campsite.
"Hill went to Lynn's vehicle and grabbed Lynn's shotgun, the two wrestled over the gun causing it to discharge, which struck Clay in the head…," the statement said.
"A fight ensued between Hill and Lynn, where Lynn fatally stabbed Hill."
Hill and Clay went camping regularly as part of secret relationship, documents confirm
Mr Hill and Ms Clay were in their mid 70s and had been in a secret relationship for 15 years, the summary says.
The pair had been childhood sweethearts, and those close to Ms Clay knew about the rekindled relationship, but Mr Hill's wife and family were unaware.
"They enjoyed the solace of camping and went on regular trips so they could spend time together," the statement reads.
Mr Hill was seen picking up Ms Clay at her house on the morning of March 19. A few hours later Ms Clay, a stalwart of the Country Women's Association and one-time national president, called a friend.
"She sounded excited to be on the road," the friend told police, recalling that Mr Hill could be heard in the background of the call.
The pair were spotted by several campers later that day when they reached the Wonnangatta Valley.
Robert Williams, a local weed sprayer, told police he spotted Mr Hill driving his Toyota LandCruiser ute, which he said "zoomed straight past" him and into a spot called Bucks Camp.
"…He drove past quickly without stopping or even waving to me which I thought was a bit odd. I thought grumpy old bugger must be on a mission to get somewhere," Mr Williams's statement reads.
Later that day Mr Williams recalled seeing a drone flying around the area, and even waved to it as it buzzed around him.
Mr Williams and a pair of hunters who were also on a camping trip recalled seeing Mr Lynn's four-wheel drive at Bucks Camp.
However during the first two days of the committal hearing, none of the witnesses said they saw a fight between the campers or heard a disturbance on the evening of March 20.
Mr Lynn allegedly repainted car to conceal crime
Prosecutors allege Mr Lynn went to great lengths to cover up the killings.
According to the police summary, he repainted his Nissan Patrol to a beige colour from navy in an attempt to avoid detection and also sold his trailer, which is yet to be located.
In November 2021, he was accused of cutting off a side-mounted awning on the vehicle, after detectives released images of his car as part of a public appeal for information about the disappearance of Mr Hill and Ms Clay.
By that stage, investigators had been secretly tapping Mr Lynn's calls and tracking his GPS data for close to a year, police documents say.
Investigators obtained warrants to plant listening devices in his car and his home, which allegedly captured Mr Lynn talking to himself.
"It is alleged the accused at times referred to the deaths of Hill and Clay," the police statement said.
The details of exactly what Mr Lynn is alleged to have said have not been aired in open court.
Police accuse Mr Lynn of dumping the bodies in remote bushland at the Union Spur Track in Wongungarra, about 37 kilometres from the town of Dargo. Investigators say he returned to the scene twice in a nine-month period, setting fire to the remains.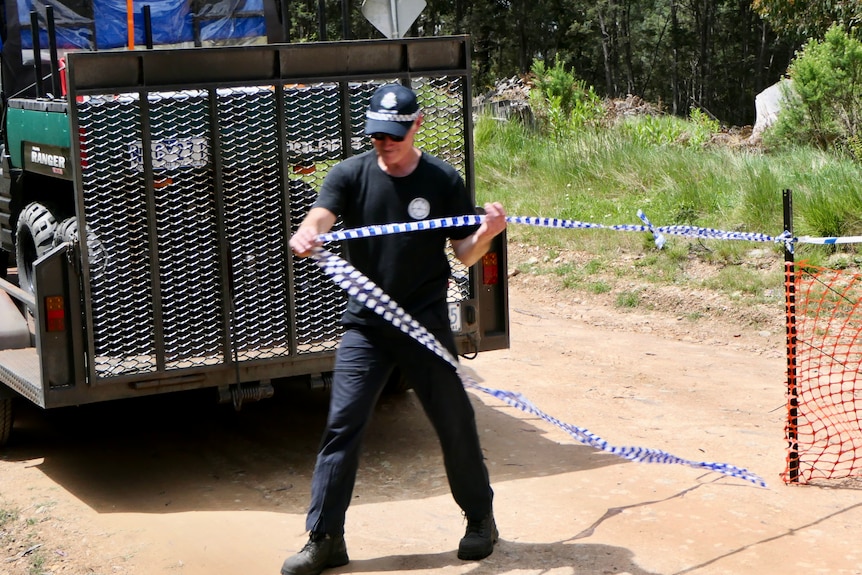 Mr Lynn was eventually arrested on November 22, 2021, when Victoria Police Special Operations Group officers took him into custody from a campsite in remote East Gippsland.
Police allege he had a Ruger rifle stored in the back of his car at the time of the arrest.
A week later, police say a forensic anthropologist identified several small bones and bone fragments at the base of a tree on the Union Spur Track, which they believe belonged to Mr Hill. A women's ring and parts of a watch were also discovered.
Prosecutors said further forensic evidence was discovered at Bucks Camp, almost two years after Mr Hill and Ms Clay were reported missing.
A piece of human skull was located, which DNA testing confirmed belonged to Ms Clay, the police statement says. A re-examination of blood splatter on the side of Mr Hill's LandCruiser found it belonged to Ms Clay, they say.
Prosecution documents say police are still waiting for forensic reports from the Victorian Institute of Forensic Medicine.
Police still investigating bullet fragments at the scene
Meanwhile, Victoria Police's ballistic unit is still conducting analysis on bullet fragments found at the scene and a Barathrum Arms 12-gauge shotgun and ammunition found at Mr Lynn's home in Caroline Springs, a suburb in Melbourne's west.
Mr Lynn, a former commercial airline pilot, experienced camper and licenced firearms owner, was said to be in possession of eight guns at the time of his arrest. They included semi-automatic pistols and rifles, revolvers, and shotguns.
In a statement tendered to the court, Victoria Police's forensic expert Mark Gellatly said more than 20 knives, two hatchets and a pick axe were also located at Mr Lynn's home.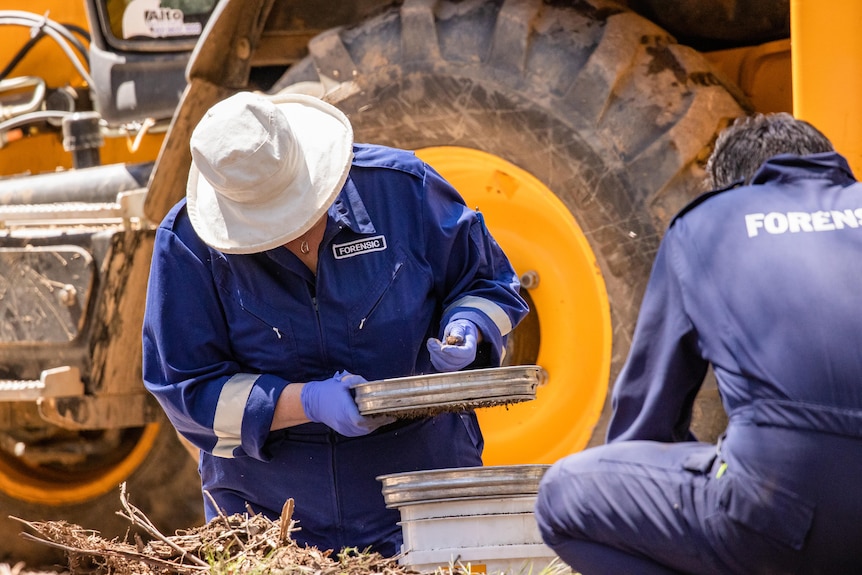 In court on Tuesday, Mr Lynn's defence lawyer Dermot Dann KC questioned Mr Gellatly about the items, some of which were marked as containing "possible blood".
"You can't confirm the presence of blood on any of those items?" Mr Dann asked.
"Yes," Mr Gellatly replied.
"Was DNA testing conducted?" Mr Dann asked.
"No," the forensics expert answered.
Mr Gellatly said forensic analysis had been conducted on Mr Lynn's shotguns but turned up no blood, and only a limited DNA profile.