Vivian said the high line was "short-term thinking" and would not be enough to seriously change the way Circular Quay was perceived by domestic and international visitors.
"Simply greening the Cahill Expressway, while making it more pleasant when viewed from expensive office towers, does nothing to improve the congested public domain around Circular Quay," he said.
"It is decorating an eyesore without solving the fundamental problem. If we are spending public money to update Circular Quay, let's maximise the benefits for Sydney and the public."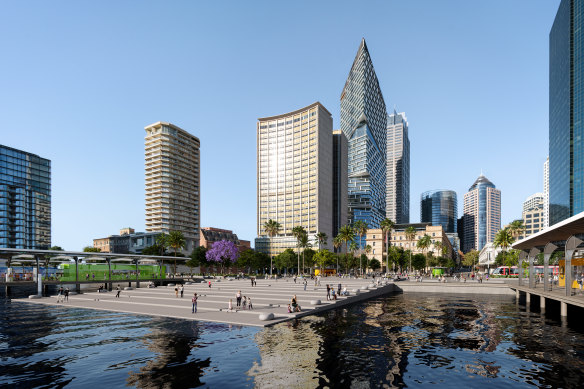 The future of Circular Quay is being debated at the highest levels of the state government before the June budget, which is expected to contain an investment decision on the long-awaited quay renewal project.
Stokes, who was contacted for comment on Monday, previously urged his colleagues to "be bold" and commit to a major revamp of the precinct, which he described as "awful" in its current state.
However, he noted the government was already reviewing major infrastructure projects in light of budget constraints and labour shortages. "We can't do everything," he told the Herald in April.
Stokes said it would be incredibly expensive to move the rail line underground.
"I think everyone would agree that the Cahill Expressway should never have been built the way it was, but now it's there, those design constraints actually create design opportunities," he said.
Premier Dominic Perrottet has been an enthusiast for a New York-style high line, and enacted a trial of sorts by closing the road to cars in January for the six-day musical festival ELEVATE.
But Moore and others believe turning the expressway into a permanent high line would only make it more difficult for a future government to tear down the structure.
Loading
Moore recently toured the site with Paul Keating, a long-term champion of removing the Cahill Expressway who as prime minister in 1994 offered to pay the NSW government to demolish it.
It is widely agreed the Cahill will remain open to cars until the Western Harbour Tunnel is built to link the Warringah Freeway to the Rozelle interchange. Construction is due to begin this year and finish in 2027.
The Morning Edition newsletter is our guide to the day's most important and interesting stories, analysis and insights. Sign up here.