As the clock ticked past 6.30am on Thursday, Tribal Warrior pulled into Walsh Bay, just as the sun was creeping over the finger wharves.
Australia's oldest surviving working timber boat was on its way to Me-Mel (Goat Island) to collect the flame for the 20th anniversary of the WugulOra (one mob) morning ceremony at Barangaroo Reserve.
The island in Sydney Harbour was once home to Eora man Woollarawarre Bennelong, and is set to be returned to the Aboriginal community in the next three years.
Built in the Torres Strait islands in 1899, Tribal Warrior was engraved with artwork and words of First Nations people from coastal communities across the country when the boat circumnavigated Australia in 2001.
After its life as a pearling lugger, it was used by the US Army in World War II before being adopted by the Ganabarr Morning Star Clan, the traditional people of the Gove Peninsula in Arnhem Land. The vessel is now owned by a Redfern-based social enterprise that teaches Indigenous youth maritime skills and provides them with employment pathways.
As the crew of three docked at Me-Mel and raised the Aboriginal flag high above the boat, Wajji Warhu (Anthony Kemp) brought the flame down to deliver to Barangaroo, where hundreds of people were waiting for the smoking ceremony.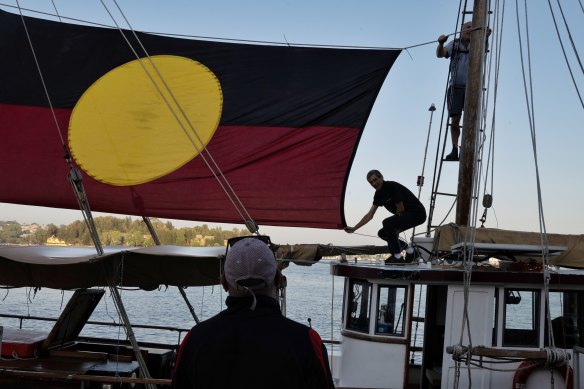 The ceremonial flame is lit on the evening of January 25 and burns through the night, representing the survival of the world's oldest culture.
Just hours earlier, the Sydney Opera House had lit up with a design from Kamilaroi woman Rhonda Sampson, whose artwork Diyan Warrane was projected onto one of Australia's most iconic canvases, and celebrates First Nations women who lived and fished around the waters of Sydney Harbour.